---
Shopping Cart Update

Recently, our internet service provider made updates and improvements to our shopping cart system. As with most updates, there are still a few kinks that need to be worked out. Some customers have reported issues with the new cart. The most common problem is the inability to enter the shipping method during checkout.

If you experience this issue, perform the following steps to correct it:


---
When proceeding to checkout, some customers find that their shipping information has already been populated into the "shipping information" fields (1).

But, when they go to select the "shipping method" by clicking the "Next" button (2), they get an error message that reads "Field required" in red (3).

If this situation occurs, click the "Edit" tab next to "shipping information" (4).



---
---
Clicking the "Edit" tab next to "shipping information" opens the detail fields of the customer's address.

There is no need to re-enter the address information. Simply click the "Next" button at the bottom of the details box (5).


---
---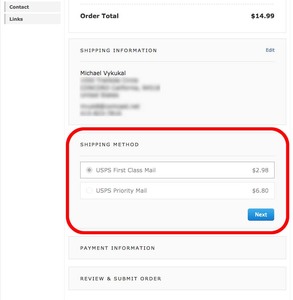 Clicking the "Next" button clears the issue and opens the "shipping method" box allowing the customer to choose his or her shipping method.

Chose the shipping method and then click "Next" to proceed with the rest of the check out process.

If you continue to experience issues with the cart, please contact us directly at:

vintageflyerdecals@gmail.com

---
---
3D Windows Have Arrived!

With our latest releases, VFD is proud to announce the introduction of 3D windows. The new 727 and L-1011 sheets are the first to feature up to three different styles of cockpit windows as well as 3D passenger windows! Over the next few months, 3D style windows will be added to all of VFD's existing decals as well.


---
United States Postal Service Rate Increases

On Monday, January 18, 2016 the US Postal Service raised shipping rates across the board. The largest rate increases were experienced in Priority Mail and international shipping. The USPS classifies the type of mailing envelope used by Vintage Flyer Decals for shipping as a small package. These envelopes provide superior protection of one's order, but also cost more to ship.

In the end, customers only pay the actual shipping cost charged by the USPS for the mailing of their order. Any overage is always refunded back to the customer's PayPal account upon shipment of their decals.

As always, customers are welcome to contact me should they have any questions or concerns?

---